Enhancing Homes in El Dorado Hills A Trusted Partner for Renovations
Welcome to A 4 Painting Plus, your go-to destination for all your home improvement needs in El Dorado Hills. With our team of skilled professionals, we offer exceptional services that will revitalize and transform your living or working space. From remodeling to cleaning and restoration, we have the expertise to exceed your expectations.
Looking to renovate or upgrade your space? We are here to assist you. Our services cover a wide range of needs, including remodeling, window installation, power washing, roofing, landscaping, dry rot repairs, siding installation, and window repairs. With our skilled contractors, we can enhance the functionality and aesthetics of your property, ensuring that every detail is taken care of with professionalism and precision.
Expert Craftsmanship and Quality Work
We understand the importance of maintaining the integrity of your property. That's why we offer comprehensive services such as dry rot repairs and siding installation in El Dorado Hills. Whether you need to repair damaged wood structures or install new siding to enhance the appearance of your property, our skilled team is here to assist you. We pay attention to every detail, ensuring that the repairs and installations are carried out with precision and quality workmanship. Restore the beauty and durability of your space with us.
When it comes to home improvement services, trust is key. We value your investment and strive to be the most reliable contractor in El Dorado Hills. Our professional staff is dedicated to delivering excellent services for your office or home. We understand your needs, work with you to determine the desired outcome, and provide effective solutions tailored to your requirements. Choose a contractor you can rely on with us.
Great Staff Ready to Serve You in El Dorado Hills
Our team is always ready to work and provide excellent services. From the moment you contact us, our staff will promptly respond to any queries and swiftly arrange an inspection of your place. We gather your requirements, plan the services accordingly, and ensure your satisfaction every step of the way. With us, you can expect a great staff ready to serve you.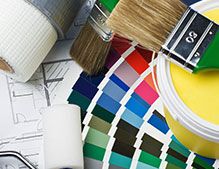 We understand the importance of timely and effective communication. That's why we offer 24/7 customer support. You can reach out to us anytime with your questions, concerns, or inquiries, and our dedicated team will swiftly respond to provide the assistance you need. We value our customers and strive to ensure their satisfaction with our prompt and reliable customer support.
Choose Us for Your Home Improvement Needs
For all your remodeling, landscaping, and power washing requirements in El Dorado Hills, trust A 4 Painting Plus. With our comprehensive range of services and commitment to top-quality craftsmanship, we will transform your space into something extraordinary. Contact us today and experience the difference we can make for your home or office.