Professional Painter in Roseville CA
Welcome to our painting services in Roseville CA! We've been adding pulsating color to the lives of our Roseville clients, painting one building at a time, and steadily delivering excellence. Our expertise is rooted in years of experience providing top-notch painting services in Roseville this picturesque community. We're well-versed in painting all kinds of properties, from residential homes to commercial buildings. Our best painters transform these spaces with finesse and an unwavering commitment to quality. We take pride in offering expert painting services that reflect the Roseville aesthetic while also bringing our client's vision to life. From the beginning till the end, we will ensure that quality is evident in our service, making you believe that our services are best to none.
Taking Painting To the Next Level
Roseville is renowned for its unique buildings and vibrant community spirit. We take inspiration from the stunning local surroundings and add a touch of this vitality to our painting projects. Our highly trained team in Roseville appreciates the significance of every stroke. Each brush on your property's walls is thoughtfully planned and expertly executed. Residential Painter Roseville are a blend of technical expertise, creativity, and a deep understanding of the local environment. Our service also incorporates the climate aspect as we offer to paint your walls with resilient materials that are guaranteed to last for an extensive period of time.
A Service With Versatile Benefits
Every painting job we undertake in Roseville reflects our commitment to excellent craftsmanship. We are passionate about creating beautiful spaces through color. By choosing us, you're not just getting a paint job but investing in a transformation that enhances your property's aesthetic appeal and value. We assure you that our commercial painting services in Roseville are punctual, professional, and tailor-made to meet your specific needs. Our experts work closely with clients to understand their requirements as well as the theme of their property, allowing them to devise a specific plan that fits your demands. After our service, your space is guaranteed to have an uplifted appeal that you can enjoy and be proud of for many years to come.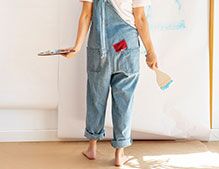 Why Choose Painter in Roseville ?
Unmatched Quality Assurance
Our painting contractor In Roseville stand out with an exceptional commitment to quality. We use the finest materials, latest techniques, and pay meticulous attention to detail, ensuring an immaculate finish that lasts. We will bring out the elegant hidden appearance of your property by providing the finest paint job.
Being local painters in Roseville, we understand the unique style and needs of Roseville properties. When planning the perfect paint job, we consider the local climate, architectural styles, and your personal preferences. Our in-depth analysis of every aspect guarantees an outcome that will make your property stand out from the surroundings.
Transparent Communication
Our Residential Painter Roseville CA believes in maintaining open communication lines. We keep you informed throughout the project, ensuring your vision is met with precision and your expectations are exceeded. Adhering to a transparent approach has allowed us to understand our clients in the best way possible and deliver the finest results.